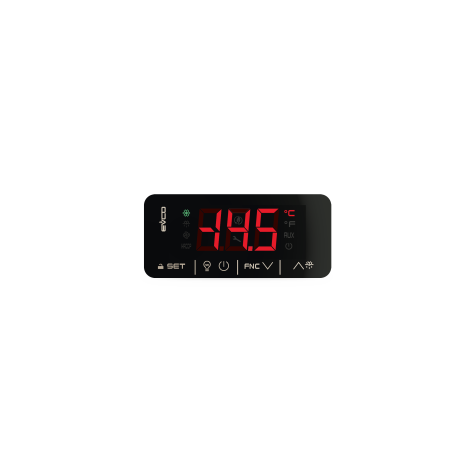 EV3 200
Controllers for refrigerated cabinets, counters and islands with energy-saving strategies
EV3 200 is a range of controllers for the optimised, high energy-efficiency management of refrigerated units at normal, low, static or fan-driven temperatures. A compact stylish design (74x32mm panel-fitted, 4 capacitive touch keys and IP65 protection), the range includes basic temperature regulators, standard controllers with TTL port, controllers with RS-485 port and controllers compatible with the EVconnect app.
The energy-saving strategies, including adaptive defrost and set-point adjustment, are combined with compressor protection functions and the possibility of driving high-power compressors, up to 2 HP, without the need for additional hardware (in models fitted with electro-mechanical relay, 30 A res. @ 250 VAC).
The TTL port enables connection of optional plug-in modules powered by the controller. The clock module can be used to activate basic real-time functions, such as RTC defrost and recording 9 alarms, while for advanced functions associated with HACCP data traceability, a Bluetooth BLE 4.0 (EVlink) interface is available with models EV3292 and EV3294, enabling data display and access from mobile devices. The clock and Bluetooth are also available as built-in versions.
The EVconnect app (compatible with Android 4.4 or later versions devices) turns smartphones and tablets into a handy tool for viewing graphics and alarms in real time and for downloading historic data which can also be sent by e-mail. The access code makes it possible to change the configuration of the refrigeration unit, making EVconnect a must-have, state-of-the-art tool also for a top-class assistance service.
Advantages & Main Features










Per maggiori informazioni su questa gamma consulta la versione desktop del sito.