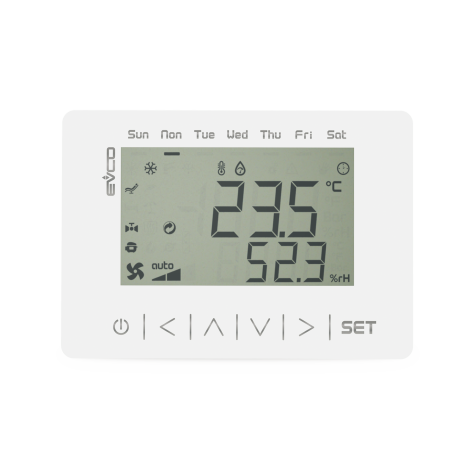 EVJ LCD
Remote user interfaces
EVJ LCD is a range of remote user interfaces for the HVAC sector stylishly designed for easy installation into any home or business environment.
Depending on the model, the EVJ LCD interface has the following features: a built-in temperature and humidity sensor and/or a Bluetooth BLE communication module.
The versions with an INTRABUS proprietary port provide an effective and economical alternative for point-to-point applications. The versions with a CAN port function as a browser for all the c-pro 3 series devices. The USB port fitted as standard enables the interface firmware to be easily updated onsite from a personal computer.
Designed for wall installation, the EVJ LCD range can be powered by the controller or by an independent power source. The user interface consists of a backlit LCD display, function icons and 6 capacitive touch keys.
Advantages & Main Features




Per maggiori informazioni su questa gamma consulta la versione desktop del sito.