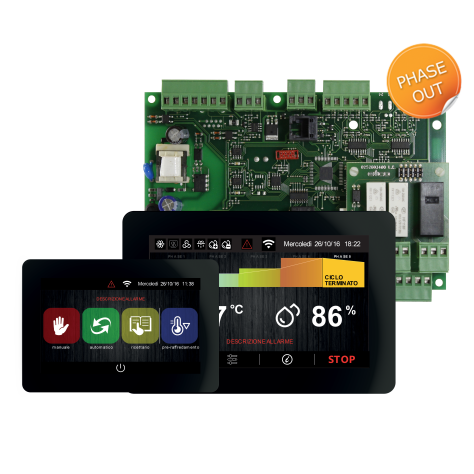 Vcolor 618 M & L
Controller for retarding-proofing cabinets and rooms, with a 5 or 7-inch colour TFT touch-screen graphic display, in split version
Vcolor 618 is a controller with elegant design for the management of retarding-proofing cabinets and rooms.
Available in split version, the user interface consists of a 5-inch (M) or 7-inch (L) capacitive TFT touch-screen graphic display in glass, 65K colours, 800 x 480 pixel resolution and IP65 protection for easy cleaning.
It is able to manage automatic retarding-proofing cycles (stopping, storing, awakening, proofing and slowing phases) and manual storing and proofing cycles (with independent temperature, humidity and ventilation intensity management for each phase). It also has the "programs" function and a communication port for common USB flash drives.
The Wi-Fi option enables the controller to be connected quite simply and safely to CloudEvolution (SSL encryption) and without additional hardware, making possible remote management, technical support and cooking-cycle traceability.
The user interface installed from behind using threaded studs enables it to be placed flush with the panel thus making it fit perfectly with the design of the unit.
Advantages & Main Features








Per maggiori informazioni su questa gamma consulta la versione desktop del sito.