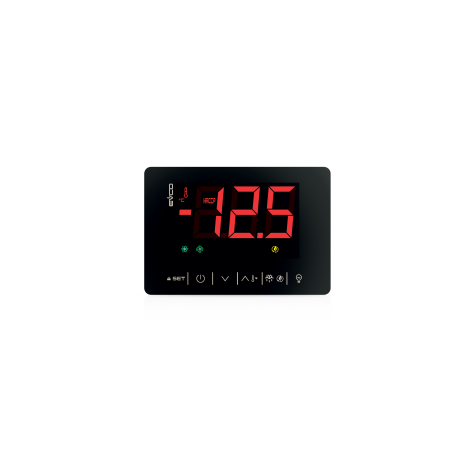 EVJ254
Controller for refrigerated cabinets with variable speed compressor
The EVJ254 controller for refrigerated cabinets guarantees minimum noise and contributes to achieving energy class A thanks to the management of variable speed compressors (Embraco Fullmotion and Secop) and optimum regulation of all loads.
Bluetooth BLE connectivity (built-in or enabled by the external EVlink BLE interface) and Wi-Fi connectivity (enabled by the external EVlink Wi-Fi interface) allow interaction with the unit from mobile devices through the EVconnect app for Android and iOS or from the Internet through the EPoCA cloud platform respectively. For more details, please visit the "Remote management and monitoring products/systems" section of our website.
The user interface has a large LED display, capacitive keys and an IP65 front with a continuous surface. It has been designed for rapid front installation on a plastic or metal panel. If the unit has a glass or methacrylate panel, the controller can be installed from behind and all the keys customized on the front of the unit.
Advantages & Main Features








Per maggiori informazioni su questa gamma consulta la versione desktop del sito.