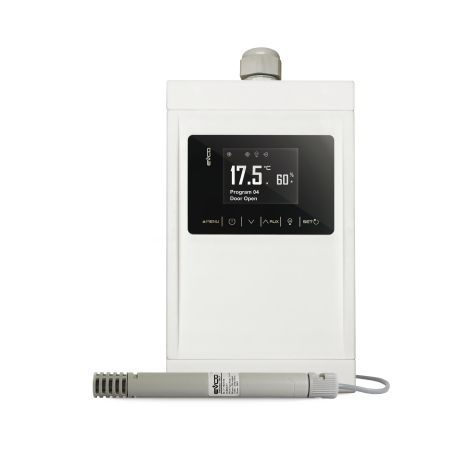 EVBOX Light J500
Frontal electrical panels for temperature/humidity and food processing rooms
EVBOX Light J500 is a range of frontal electrical panels operating with a proprietary probe. They provide control solutions for temperature/humidity and food processing rooms, with both heating and cooling modes.
In the models for food processing rooms, management of the dripping, drying and ageing processes is optimised by the use of intuitive programs that can be configured for timing, temperature and humidity. Regulation options include manual or programmed air exchange cycles, as well as a pause-work function.
The Bluetooth connectivity (using a built-in or external BLE module) enables access from a smartphone with the EVconnect app, making it possible to configure the equipment and also to download and exchange HACCP data and parameter maps.
The user interface has a 2.8 inch colour graphic display and capacitive keys. All parts of the electrical panel are designed to guarantee IP65 protection.
Technical sheet
Advantages & Main Features






Per maggiori informazioni su questa gamma consulta la versione desktop del sito.