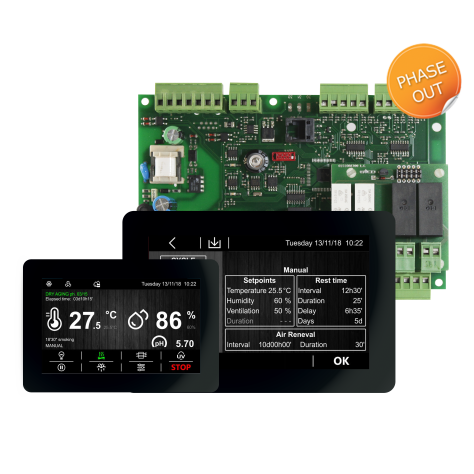 Vcolor 539 M & L
Controllers for food processing cabinets and rooms
Vcolor 539 is a split controller with a capacitive TFT touch-screen colour graphic display (5" or 7") for flush panel fitting and total management of food processing cabinets or rooms for different types of products such as meat, charcuterie and cheese.
It has manual conservation cycles and automatic ageing cycles (up to 30 sequential phases) whose duration, temperature, humidity and ventilation can all be fully configured.
It is possible to set automatic air exchange and pause/work cycles, as well as managing optional sterilisation, oxygenation and smoking processes either automatically or manually.
Standard 4-20 mA transducers (such as EVHP503) may be used to manage humidity or read the acidity level of a product; alternatively humidity can be controlled using a dedicated probe T+RH EVTHP500 (RH 5-95% / T -20/80°C).
Advantages & Main Features









Per maggiori informazioni su questa gamma consulta la versione desktop del sito.