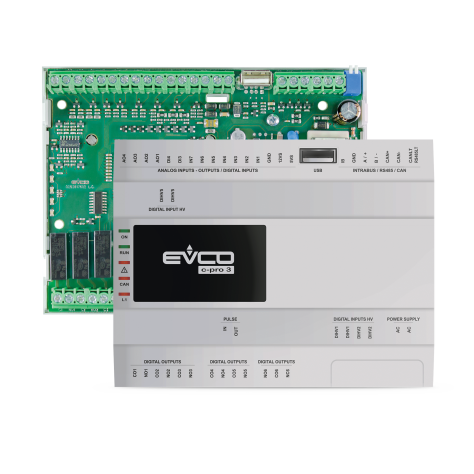 c-pro 3 OEM DH
Controller for dehumidifiers with heat recovery
The c-pro 3 OEM DH controller is ideal to manage high effinciency thermodynamic dehumidifiers for radiant systems in residential environments. Regulation options include the management of the following: the cross-flow or rotary heat exchanger, the pre- and post-cooling coils and the auxiliary water condenser.
The controller optimizes energy consumption being capable of independently managing EC supply and extraction fans and of driving on-off or brushless DC compressors. Environmental comfort in terms of temperature is achieved by the ability to contribute to the radiant system functions through the driving of 2 electrovalves for the management of the post-cooling coil and the auxiliary water condenser.
The controller manages the free colling/free heating function by means of the on-off or modulating heat exchanger bypass and of the recirculation damper, which increases the airflow to the compressor.
In an 8-DIN format, c-pro 3 OEM DH is available both in the openboard version or in the version with plastic enclosure. It can be connected to wall-mounted remote user interfaces with built-in temperature/humidity sensors.
Advantages & Main Features








Per maggiori informazioni su questa gamma consulta la versione desktop del sito.