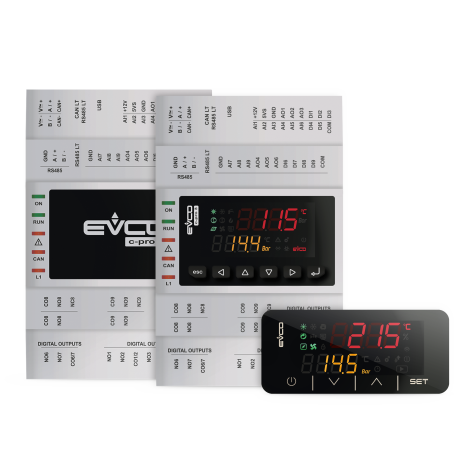 c-pro 3 CHILL
Controllers for single- and dual-circuit chillers with up to 3 compressors each circuit
c-pro 3 CHILL is a series of fully configurable controllers for running single- and dual-circuit air to water and water to water chillers with up to 3 compressors for each circuit.
The system is able to manage on-off compressors and on-off and modulating fans, with single or independent condensation. It can manage the pump down solenoid valve, "free cooling" and the "weekly programming" function.
Equipped with a wide variety of communications ports, the controllers can be connected with an I/O expansion and with a driver for the management of bipolar stepper electronic expansion valves.
The solution is available in the following hardware formats: - c-pro 3 nano (74x32 mm) with built-in LED display, capacitive touch keys, 25 I/Os, IP65 frontal potection and panel fitting; - c-pro 3 micro (4 DIN modules) in blind version or with built-in LED user interface, up to 33 I/Os and DIN rail installation. Both formats can be connected to the stylish interface EPJ graph, which is supplied based on the specific needs for panel or for wall mounting.
Advantages & Main Features








Per maggiori informazioni su questa gamma consulta la versione desktop del sito.