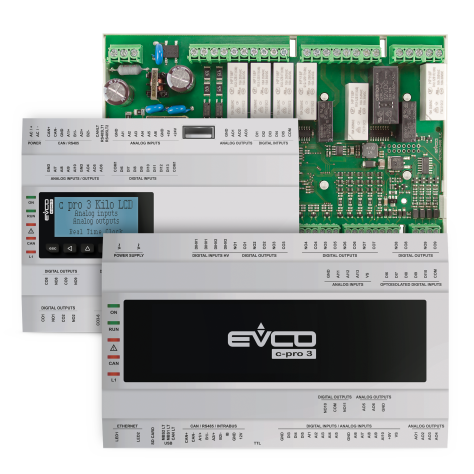 c-pro 3 NODE kilo AHU
Controller for single or double flow air handling units with seasonal (with 1 coil) and annual (with 2 coils) operation
c-pro 3 NODE kilo AHU is a controller for managing single or dual-flow (with heat recovery) air handling units operating with 1 or 2 treatment coils. The coils can be electrical, water-activated or direct expansion.
It is available in blind version with a possible remote user interface Vroom or Vcolor; Vroom incorporates a temperature and humidity sensor (whose readings can be transmitted via BUS).
The controller is able to manage the return fan and the supply fan independently (up to 3 speeds or modulating); it is also able to manage the external damper, the bypass damper and the mixing chamber damper.
It can manage the humidifier (both "on-off" and modulating) and the ventilation modulation, according to the supply static pressure and according to the room air quality.
The variety of available communication ports (RS-485, CAN, USB and Ethernet) and supported communication protocols promotes the integration of the controller in systems.
Installation is on DIN rail, into a control panel.
Advantages & Main Features









Per maggiori informazioni su questa gamma consulta la versione desktop del sito.