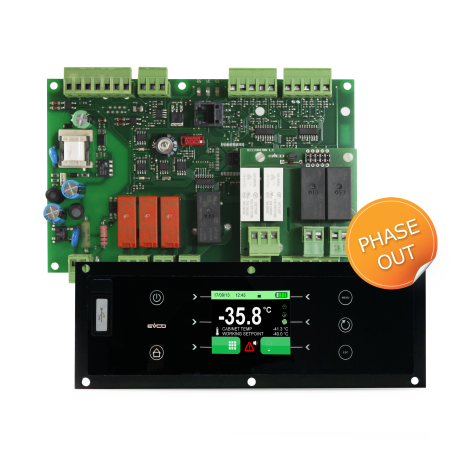 EVFTFT219
Controller for laboratory refrigerated cabinets, in split version that can be built into the unit
EVFTFT219 is a controller with elegant design for the management of laboratory refrigerated cabinets.
It is available in split version and can be mechanically and aesthetically integrated in the unit; the user interface consists of a colour TFT graphic display, touch keys and guarantees an IP65 protection rating, for easy cleaning.
Access to the controller functions is subject to user identification; any activity will be tracked and the temperatures read by the probes will be recorded.
The device is equipped with power failure management strategies and a simulation function; thanks to a backup module and battery, it is possible to guarantee, for as long as the battery lasts, power to the user interface and the recording of the temperature value measured by a product probe that is electrically independent from the cabinet probe.
The device also has a three-point calibration function for the cabinet probe and the product probe, the "f: time-temperature" graphic function and a USB communication port accessible from the front of the user interface (to allow the upload and the download of the settings and the data recorded by the controller, through a common USB flash drive).
Installation is by back-panel, with threaded studs and guarantees flush mounting.
Advantages & Main Features










Per maggiori informazioni su questa gamma consulta la versione desktop del sito.