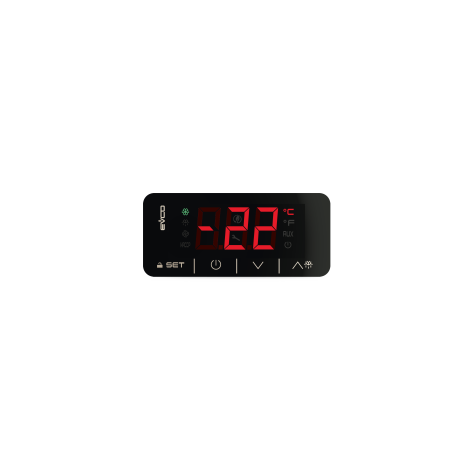 EV3X41
Basic controller for chest refrigerators with energy-saving strategies
EV3X41 is a stylish basic controller for managing chest refrigerators.
It is available in compact version, in a standard 74 x 32 mm format. The user interface consists of a larger than average custom display, with decimal point and function icons, and four touch keys. It guarantees IP65 protection for easy cleaning.
The controller has an electro-mechanical relay 16 A res. @ 250 VAC for the direct control of medium-power compressors with no need to use contactors. It can also be connected directly to the load.
Complete with energy-saving and product keeping quality strategies, the working temperature is systematically recalculated in relation to the product and evaporator temperatures, thus ensuring a guaranteed maintenance of the foodstuff temperature.
Installation is by panel, with snap-in brackets.
Advantages & Main Features










Per maggiori informazioni su questa gamma consulta la versione desktop del sito.