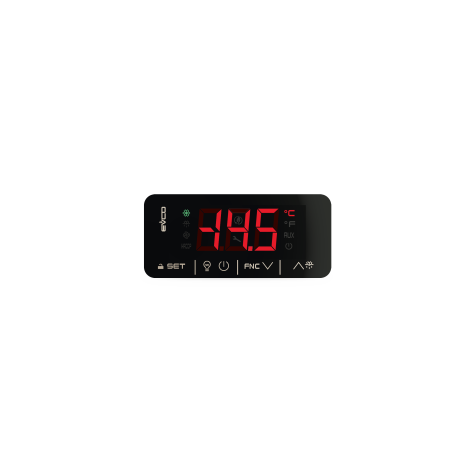 EV3 200
Controllers for refrigerated units at normal, low, static or fan-driven temperatures
EV3 200 is a range of controllers for the optimised, high energy-efficiency management of refrigerated units at normal, low, static or fan-driven temperatures. A compact stylish design (74x32mm panel-fitted, 4 capacitive touch keys and IP65 protection), the range includes basic temperature regulators, standard controllers with TTL port, controllers with RS-485 port and controllers compatible with the EVconnect app or with the EPoCA cloud platform.
The energy-saving strategies, including adaptive defrost and set-point adjustment, are combined with compressor protection functions and the possibility of driving high-power compressors, up to 2 HP, without the need for additional hardware (in models fitted with electro-mechanical relay, 30 A res. @ 250 VAC).
For basic real-time functions, such as RTC defrost and recording 9 alarms, the clock module is available in the built-in version or the version which is connected externally.
With some models, users can rely on advanced HACCP data logging functions and interact remotely with their equipment using the EPoCA® cloud platform with Wi-Fi or Ethernet connectivity (which also enables alternative or parallel control through MODBUS TCP). Onsite, they can interact from a mobile device with the EVconnect® app which uses Bluetooth Low Energy connectivity. For more details, compare all the connectivity options in the Technical Data table and consult the sections of our website: Products/ Management and Monitoring Systems and Products/ Connectivity Devices.
Advantages & Main Features










Per maggiori informazioni su questa gamma consulta la versione desktop del sito.