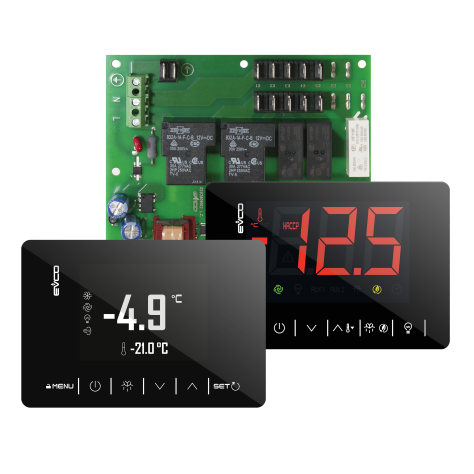 EVJ 200
Extra-large controllers for refrigerated cabinets and display units, compact and split versions, with energy-saving strategies
EVJ 200 (EVJumbo) is a range of controllers for refrigerated cabinets and display units. They are all modern design with a large, extra-bright display, function icons and 6 keys. Both the compact and split versions can be supplied in open-frame format with a membrane keypad.
Designed for quick panel installation, the Jumbo family has a capacitive touch-screen keypad and a completely flat IP65 front making it easy to clean. The open-frame format models in which the controller is installed from behind can be personalised once fitted to the machine.
With up to 6 relays for total management of refrigerated cabinets and display units, these controllers have firmware with smart functions for energy-saving. Some models can be supplied in a version compliant with the standard EN 60079-15 for equipment using hydrocarbons (R290).
For advanced functions concerning HACCP data traceability, it is possible to add a data-logger module on SD card (EVBD05) which generates files in CSV format.
Alternatively, users can have data traceability functions and interact remotely with their equipment using the EPoCA® cloud platform with Wi-Fi or Ethernet connectivity (which also enables alternative or parallel control through MODBUS TCP). Onsite, they can interact from a mobile device with the EVconnect® app which uses Bluetooth Low Energy connectivity. For more details, compare all the connectivity options in the Technical Data table and consult the sections of our website: Products/ Management and Monitoring Systems and Products/ Connectivity Devices.
Advantages & Main Features








Per maggiori informazioni su questa gamma consulta la versione desktop del sito.