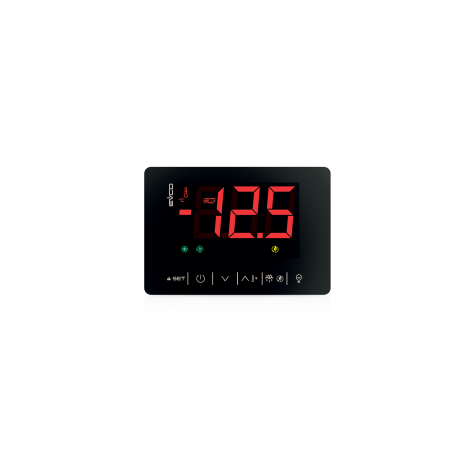 EVJ254
Controller for refrigerated cabinets with variable speed compressor
The EVJ254 controller for refrigerated cabinets guarantees minimum noise and contributes to achieving energy class A thanks to the management of variable speed compressors (Embraco Fullmotion and Secop) and optimum regulation of all loads.
Users can interact remotely with their equipment using the EPoCA® cloud platform with Wi-Fi or Ethernet connectivity (which also enables alternative or parallel control through MODBUS TCP). Onsite, they can interact from a mobile device with the EVconnect® app which uses Bluetooth Low Energy connectivity. For more details, compare all the connectivity options in the Technical Data table and consult the sections of our website: Products/ Management and Monitoring Systems and Products/ Connectivity Devices.
The user interface has a large LED display, capacitive keys and an IP65 front with a continuous surface. It has been designed for rapid front installation on a plastic or metal panel. If the unit has a glass or methacrylate panel, the controller can be installed from behind and all the keys customized on the front of the unit.
Declaration of conformity to the CE directives
Advantages & Main Features








Per maggiori informazioni su questa gamma consulta la versione desktop del sito.