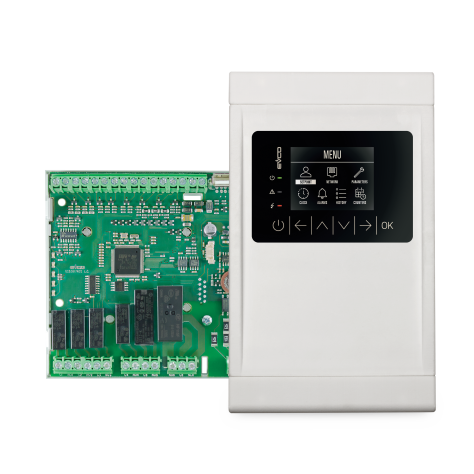 c-pro 3 OEM Sequencer
Sequenziatore per pompe di calore e chiller
The c-pro 3 OEM Sequencer is a control solution making it possible to control in sequence up to 5 heat pumps or up to 5 chillers interconnected with RS-485 serial communications systems, provided that each unit is managed by an EVCO controller belonging to the c-pro 3 HPRU or c-pro 3 CHILL series.
The number of operating units and their power level is adjusted according to the cooling/heating requirements and it is also possible to set parameters for the number of units active at the same time.
The sequencer is available in the open-board version matched with a user interface of a modern design with a colour LCD graphic display from which it is possible to manage all the principal functions of the equipment (switch on/off, alter operating mode, etc.) and view the main variables of each of the connected heat pumps.
Optionally, the solution can be housed in a fully IP65 compliant electric panel.
Technical sheet
Advantages & Main Features






Per maggiori informazioni su questa gamma consulta la versione desktop del sito.