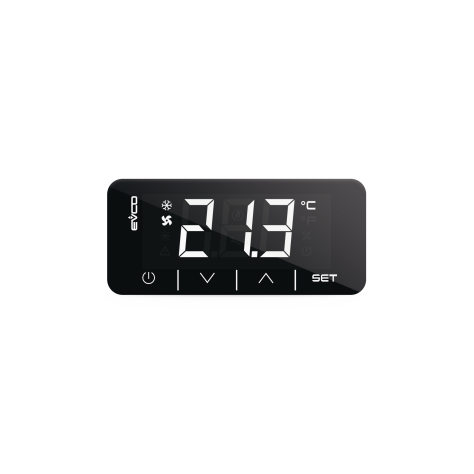 EV3 FAN COIL
Controller for fan-coil units
The compact controller EV3 FAN COIL is a stand-alone solution suitable for the management of all fan coil units, both the 2 and 4-pipe ones.
It can run fans of both the "on-off" (up to 3 speeds) and modulating types. The fan speed can be set by the user or change automatically according to the room temperature.
Available for panel fitting in the 74x32 mm format, it has a front with a completely flat IP65 front making it easy to clean, 4 capacitive touch keys and big-size LED digits for easy reading.
Upon request, the controller can be equipped with Wi-Fi connectivity so it can interact remotely with the unit through the EPoCA® cloud platform. From PC and mobile devices it will then be quite simple to display any logged data (in table or graph form), to configure parameters and to receive alert notifications.
Advantages & Main Features




Per maggiori informazioni su questa gamma consulta la versione desktop del sito.