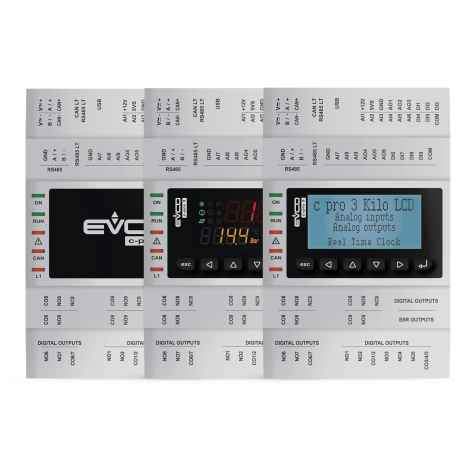 c-pro 3 kilo
Programmable controllers
c-pro 3 kilo is a range of programmable controllers for applications in refrigeration and air conditioning sectors.
They are available with integrated user interface or in blind version to be combined with a remote user interface.
The user interface consists of a custom display or a LCD graphic display (depending upon the model) and six keys.
The controllers have a considerable number of inputs and outputs; they make it possible to create a flexible, modular and expandable control devices network.
Some of them integrate an unipolar stepper electronic expansion valves driver.
The variety of available communication ports (RS-485, CAN and USB) and supported communication protocols promote the integration of the controllers in systems.
The application software can be written with the UNI-PRO 3 development environment for programmable controllers.
Installation is on DIN rail, into a control panel.
Advantages & Main Features






Per maggiori informazioni su questa gamma consulta la versione desktop del sito.