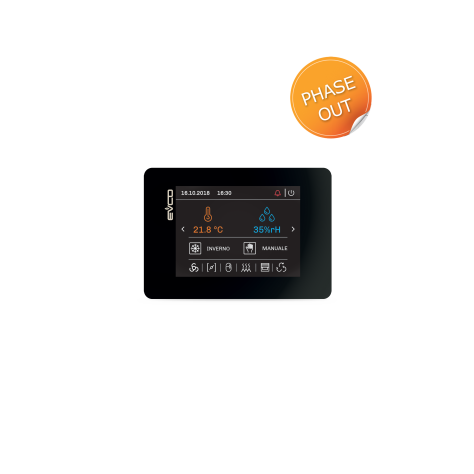 EPJcolor
Remote user interfaces
EPJcolor is a range of programmable user interfaces which can be used in a wide range of applications in a vast number of different sectors.
The user interface has a 3.5'' TFT full touch-screen colour graphic display than can either be panel or wall mounted, thus making it suitable for both residential or business environments.
A model incorporates a temperature sensor, whose readings can be transmitted via BUS.
The development environment for UNI-PRO 3 programmable controllers makes it possible to intuitively personalise both the application software and the graphics.
Highly evolved graphics and user navigation options can be set up using a wide range of predefined libraries and templates. Moreover, the ability to import fonts, load bitmaps and text translation files automatically from a USB flash drive simplifies the human-machine interface personalisation process.
EPJcolor can operate in browser mode, i.e. as a controller display, or as a controller with an on-board regulation programme and data-logging and MODBUS master/slave communications possibilities.
Advantages & Main Features







Per maggiori informazioni su questa gamma consulta la versione desktop del sito.