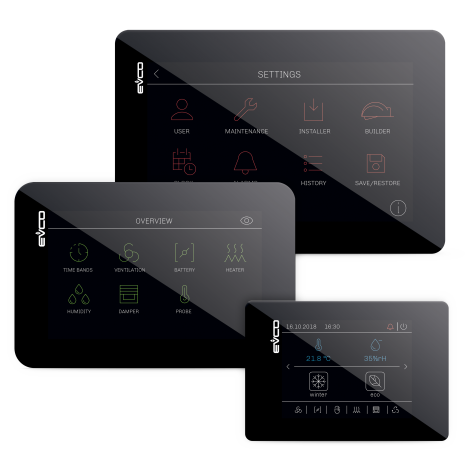 EPcolor HVAC
Remote user interfaces
The EPcolor HVAC series is a range of remote user interfaces designed to communicate via CANBUS with the c-pro 3 controllers of the air-conditioning business unit.
The capacitive TFT touch-screen colour graphic display in glass of 3.5 inches (S), 5 inches (M) or 7 inches (L), has 65,000 colours, resolution up to 800x480 pixels and IP65 frontal protection.
The user interface installed from behind using threaded studs enables it to be placed flush with the panel thus making it fit perfectly with the design of the unit.
Colours, icons and languages can be personalized with a simple procedure via USB flash drive.
Advantages & Main Features






Per maggiori informazioni su questa gamma consulta la versione desktop del sito.