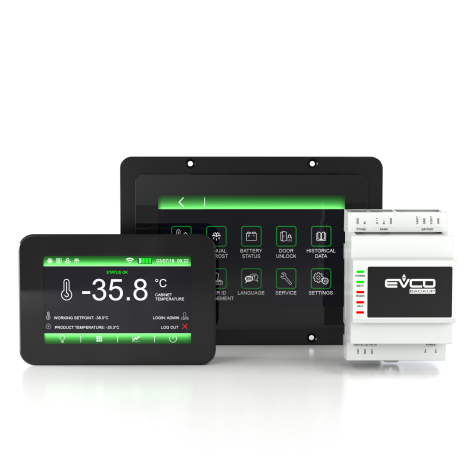 Vcolor 279
Control solution for laboratory refrigerated units
Vcolor 279 is a controller for refrigerated units and has 9 sealed relays (which can be expanded to 13) to meet the most sophisticated management needs in sectors such as laboratory refrigeration at temperatures as low as -99°C.
Regulation and reading accuracy is guaranteed by 3-point probe calibration and access to controller functions is hierarchically subject to user identification to increase the level of protection. The controller interacts with a backup module to manage emergencies, ensuring that temperature readings are always recorded in the built-in data-logger, even in the event of a power failure.
Featuring intuitive navigation with real-time trend graphs, the controller's innovative programmable platform allows the user to personalise the graphic skin and add new machine interface languages.
Users can interact remotely with their equipment using the EPoCA® cloud platform with Wi-Fi or Ethernet connectivity (which also enables alternative or parallel control through MODBUS TCP). For more details, compare all the connectivity options in the Technical Data table and consult the sections of our website: Products/ Management and Monitoring Systems and Products/ Connectivity Devices.
Available in a split 5 or 7-inch version with a capacitive colour TFT touch-screen graphic display, the user interface can be installed recessed from the front or flush with the panel, thus making it fit perfectly with the design of the unit.
Advantages & Main Features








Per maggiori informazioni su questa gamma consulta la versione desktop del sito.