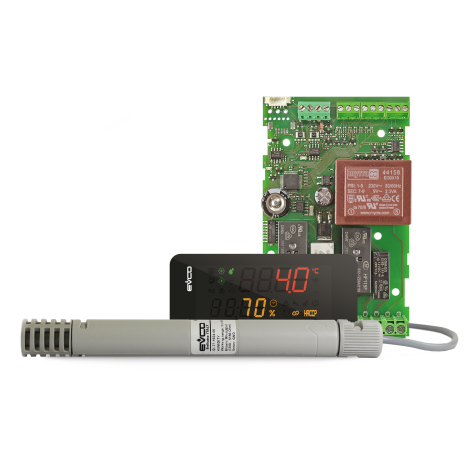 EV3S 554
Temperature/humidity controller for cabinets, counters and display units
EV3S 554 is a controller suitable for managing applications requiring temperature and humidity control, such as pastry and praline displays. It is also designed for equipment using hydrocarbons as it is fitted with sealed relays.
The controller operates with a proprietary probe and has 4 fully configurable outputs for managing temperature in heating/cooling mode with a neutral zone too, as well as humidity with dehumidification.
The fan speed can be modulated or, alternatively, variable speed compressors can be managed. There is also a 12 VDC output that can be configured to further command an external relay.
Users can interact remotely with their equipment using the EPoCA® cloud platform with Wi-Fi or Ethernet connectivity (which also enables alternative or parallel control through MODBUS TCP). Onsite, they can interact from a mobile device with the EVconnect® app which uses Bluetooth Low Energy connectivity. For more details, compare all the connectivity options in the Technical Data table and consult the sections of our website: Products/ Management and Monitoring Systems and Products/ Connectivity Devices.
It is available in the split version in the 74x32 format with a double-line LED display, 4 capacitive touch keys and IP65 front protection.
Advantages & Main Features







Per maggiori informazioni su questa gamma consulta la versione desktop del sito.