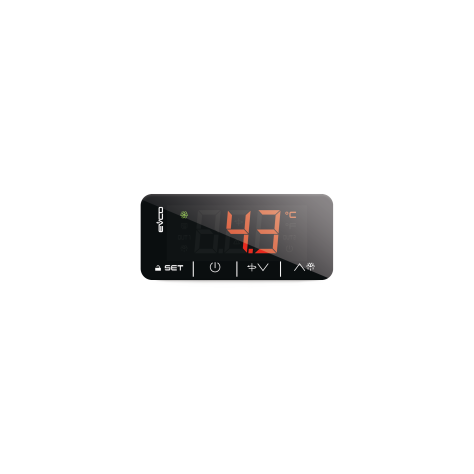 EV3 143
Controller for 2 independent temperature regulations, for milk refrigeration or for ice-cream processing
EV3 143 is a versatile controller suited to be used in several different applications simply by setting one parameter.
In the first of the 3 possible configurations, the controller can manage 2 temperature regulations independently, each with a setpoint adjustable in hot or cold mode (range -40°C to 110°C), thus proving to be fit for applications requiring foodstuff to be maintained at different temperatures (for examples buffet tables and lines).
The second configuration has been developed to manage milk refrigeration tanks, where milk preservation after milking at a temperature of 4 °C combines with the use of a stirrer that helps cooling in a fast and homogenous way all the tank content.
Lastly, the controller can also be configured for ice-cream blast freezer management, thanks to a special algorithm that makes it possible to perform a cascade cycle in 4-phases: heating, cooking, cooling and conservation.
Available in a compact 74x32 format with LED display and capacitive touch keys, EV3 143 has a flat surface front with IP65 protection for an easy cleaning.
Technical sheet
Advantages & Main Features









Per maggiori informazioni su questa gamma consulta la versione desktop del sito.