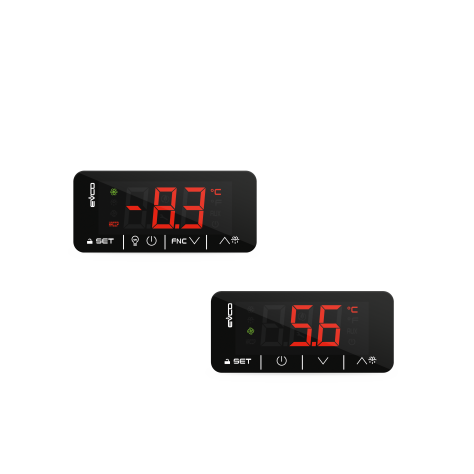 EV327/EV328
Controllers for refrigeration with compressor protection against mains voltage fluctuations
EV327/EV328 controllers are able to protect the compressor against mains voltage fluctuations, preventing it from being switched on (or causing it to switch off) if voltage is outside an allowed range, while ensuring the cooling of the cabinet (patented function).
Some controllers have a 30 res. A @ 250 VAC electromechanical relay for the direct control of high power compressors, avoiding the use of contactors; all have adaptive management of the defrost function and can implement energy-saving strategies.
Users can interact remotely with their equipment using the EPoCA® cloud platform with Wi-Fi or Ethernet connectivity (which also enables alternative or parallel control through MODBUS TCP). Onsite, they can interact from a mobile device with the EVconnect® app which uses Bluetooth Low Energy connectivity. For more details, compare all the connectivity options in the Technical Data table and consult the sections of our website: Products/ Management and Monitoring Systems and Products/ Connectivity Devices.
In the standard 74x32 mm format with 4 capacitive keys and IP65 front protection, the controller has a single-line LED display. It is for panel fitting, using snap-in brackets.
Advantages & Main Features








Per maggiori informazioni su questa gamma consulta la versione desktop del sito.