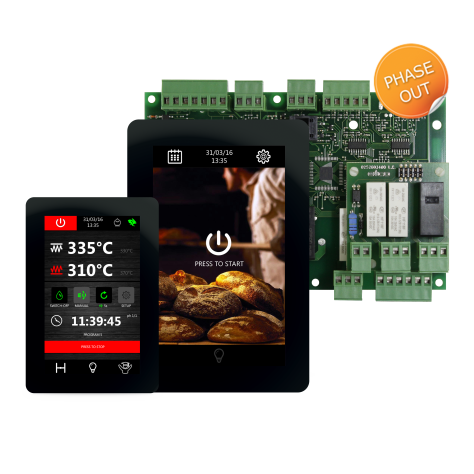 Vcolor 318/328 M & L
"Top-floor" controllers for bread and pizza ovens, with 5 or 7-inch colour touch-screen TFT graphic display, in split version
Vcolor 318/328 is a range of controllers with elegant design for the management of different typologies of "top-floor" electric ovens.
Available in split version, the user interface consists of a 5-inch (M) or 7-inch (L) capacitive TFT touch-screen graphic display in glass, 65K colours, 800 x 480 pixel resolution and IP65 protection for easy cleaning.
These controllers are suitable for different types of electric ovens due to the independent management of the power and the temperature at the top and on the floor of the oven. The model Vcolor 318 manages top-floor heaters by electro-mechanical relays, while the model Vcolor 328 has 2 12VDC outputs for managing external SSRs.
They have the full steam management (generation, injection and venting), both in automatic and manual mode, the "programmed weekly switch on", "cooking timer" and "programs" functions and energy saving strategies.
The user interface installed from behind using threaded studs enables it to be placed flush with the panel thus making it fit perfectly with the design of the unit.
Advantages & Main Features







Per maggiori informazioni su questa gamma consulta la versione desktop del sito.