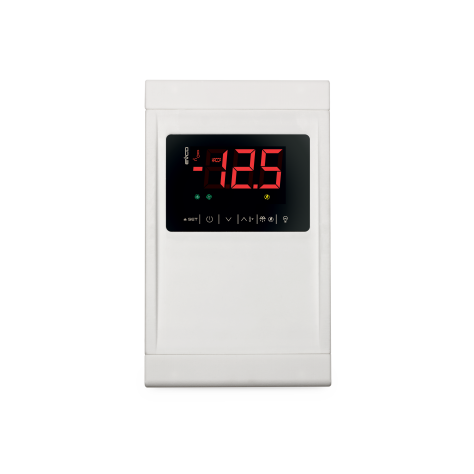 EVBOX Light J200 & JS200
Controllers for cold rooms
EVBOX Light J200 is a range of frontal electrical panels for managing single-phase cold rooms with either on-board or remote moto-condensing units. In the latter case it is also possible to opt for the EVBOX Light JS200 (Split) solution designed to be much slimmer, fitting just the user interface on-board.
Equipped with up to 5 relay outputs, the electrical panels can regulate the most varied equipment configurations on the market with great flexibility and energy savings.
Bluetooth BLE connectivity (built-in or enabled by the external EVlink BLE interface) and Wi-Fi connectivity (enabled by the external EVlink Wi-Fi interface) allow interaction with the unit from mobile devices through the EVconnect app for Android and iOS or from the Internet through the EPoCA cloud platform respectively. For more details, please visit the "Remote management and monitoring products/systems" section of our website.
The user interface has a large LED display and capacitive keys. All parts of the electrical panel are designed to guarantee IP65 protection.
Advantages & Main Features








Per maggiori informazioni su questa gamma consulta la versione desktop del sito.