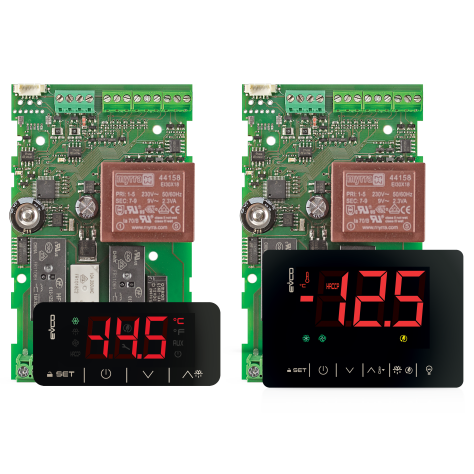 EV3 & EVJ Basic Split
Split-version controllers for refrigerated units
EV3/EVJ Basic Split is a range of controllers equipped with 2 or 4 relays than can be fully configured and used to manage a wide variety of different refrigerated units, meeting every need, from simple temperature regulation to more complex, state-of the-art control systems.
They are natively compatible with equipment using hydrocarbons (R290) and are equipped with outputs able to modulate fans and compressors, as well as to control external SSRs. They are also highly energy efficient.
They are ready to be connected to optional plug-in BLE or Wi-Fi modules, enabling the controller to interact with mobile devices providing professional-standard wireless solutions that are easy to use for HACCP data traceability, for configuring equipment and for real time and alert management.
The control modules are available in open frame and split version for fitting on the machine. They can be used with LED user interfaces with capacitive keys in 74x32 mm (EV3) or extra-large format with increased brightness (EVJ) for panel fitting.
Advantages & Main Features








Per maggiori informazioni su questa gamma consulta la versione desktop del sito.