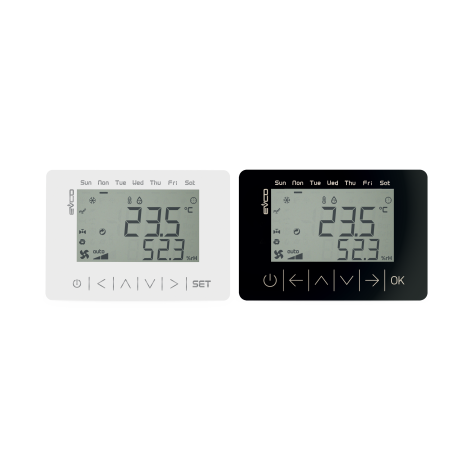 EVJ/EPJ LCD
Remote user interfaces
The remote user interfaces EVJ LCD (INTRABUS) and EPJ LCD (CANbus) can be used as remote displays for a wide range of EVCO controllers for HVAC applications and many programmable controllers in the c-pro 3 range.
The versions with an INTRABUS proprietary port provide an effective and economical alternative for point-to-point applications. The versions with a CAN port can be connected to more than one unit in a network of devices.
Depending on the model, a number of different features are installed: 1 or 2 analogue inputs, 2 digital outputs, a built-in temperature and humidity sensor and a Bluetooth BLE communication module, also built in.
With their clean modern lines, LCD display, function icons and 6 capacitive keys, these interfaces blend perfectly with any type of environment also given their panel and wall mounting and the option of their own or controller power feed. The version housed in a built-in box enables it to be powered directly from the mains (115...230 VAC) with no need for transformers.
Advantages & Main Features






Per maggiori informazioni su questa gamma consulta la versione desktop del sito.