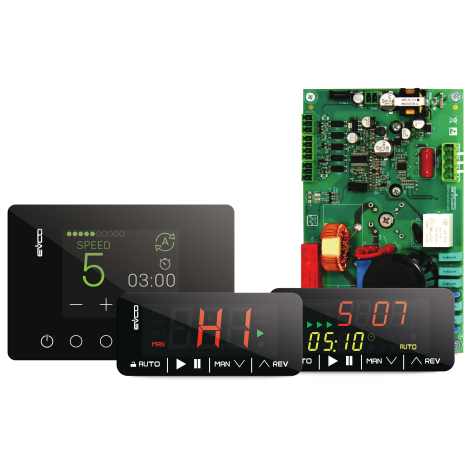 EV3 Mix
Controllers for industrial mixers
The digital controllers in the EV3 Mix series are a modern alternative to electro-mechanical devices for managing industrial spiral mixers with 750, 1500 or 2200 W motors and 2300 W motors with high inrush current.
They are available in the split version with an open inverter board and heat sink, combined with a 74x32 user interface with a single- or double-line LED display, 4 capacitive touch keys and IP65 front protection.
The controllers manage manual (unlimited time) and automatic cycles whose duration and speed can be set for each phase. In the Basic models with a single-line display, it is possible to set 2 rotation speeds (high and low) and cycles with up to 2 phases, while in the Plus models with a double-line display, there are 10 possible speeds and 10 phases allowed for the automatic cycles. The duration setting of each phase ranges from 1 to 99 minutes.
Regulation options include the pause-work function, the "reverse" function to remove the dough from the spiral, change of speed during operation and management and display of the motor alarms.
Advantages & Main Features







Per maggiori informazioni su questa gamma consulta la versione desktop del sito.