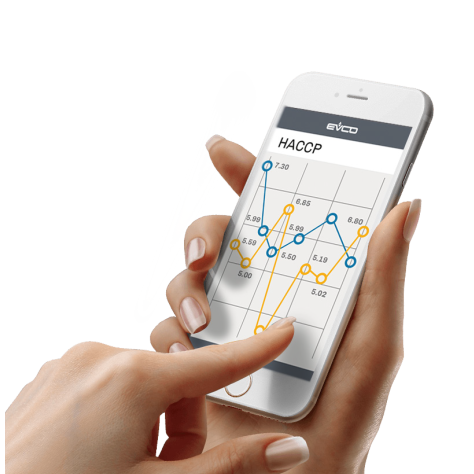 EVconnect
APP for Android and iOS
EVconnect is an APP for Android and iOS that makes it possible to use Bluetooth (Bluetooth Low Energy) to operate compatible EVCO controllers with built-in BLE or that can be expanded with the EVlinking BLE module.
EVlinking (EVIF25TBX) is a compact, plug-in interface that is easy to install. It acts as a data-logger for the automatic storage of historical data, needing no programming and it is powered by the controller.
From your smartphone or tablet it is quite simple to download and display any logged data, in graphic or table form and check alarms and machine status. The information can be exported in CSV format then, for example, be attached to an e-mail message.
Besides facilitating data monitoring and technical support, EVconnect lets you keep your equipment settings to hand. Fully protected by multiple-level access codes, your device becomes a handy tool for adjusting your equipment's set-points and configuration. A list of parameters, together with a full description of these, makes configuring the equipment even simpler.
Technical sheet
Nessun download disponibile.
Per maggiori informazioni su questa gamma consulta la versione desktop del sito.