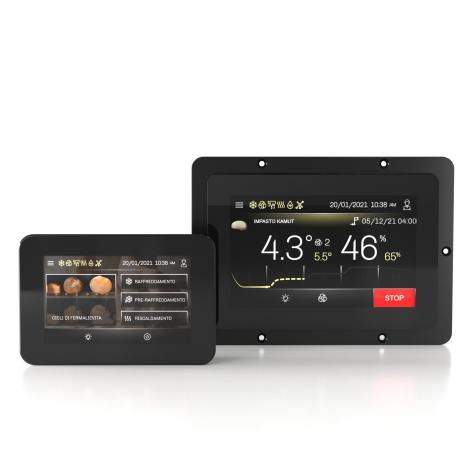 Vcolor 679/689
Controllers for proofing or retarding-proofing cabinets and rooms
Vcolor 679/689 is a controller for retarding-proofing or proofing cabinets and rooms which delivers high performance and precision regulation, thanks to a modulating output which gives control of up to ten evaporator fan speeds. The evaporator fan can also be modulated using an EVCO inverter. In the 689 models, the modulating output can also be set to control variable speed compressors. The controller's firmware can control an ultrasonic humidifier from the Mistral series via the RS-485 serial port.
By simply setting a parameter, the controller can be configured to manage retarding-proofing and proofing automatic cycles. Variables such as temperature, humidity, fan intensity and duration can be managed independently for each phase. As well as three-phase proofing cycles (re-awakening, proofing and baking delay), with blocking and holding added in the retarding-proofing cycles, there are also manual cycles such as heating for proofing and cooling/pre-cooling/heating for retarding-proofing.
The controller's innovative programmable platform gives manufacturers the freedom to personalise the graphic skin and programmes and add new languages. All they have to do is compile an ODS file and upload it using a flash drive to the USB port on the user interface.
Users can interact remotely with their equipment, including starting/stopping working cycles, using the EPoCA® cloud platform with Wi-Fi or Ethernet connectivity (which also enables alternative or parallel control through MODBUS TCP). For more details, compare all the connectivity options in the Technical Data table and consult our website.
The controller has an open frame board and a remote user interface which consists of a 5-inch (M) or 7-inch (L) capacitive TFT touch-screen graphic display in glass which is installed horizontally either semi-recessed into the front or flush with the panel.
Advantages & Main Features










Per maggiori informazioni su questa gamma consulta la versione desktop del sito.