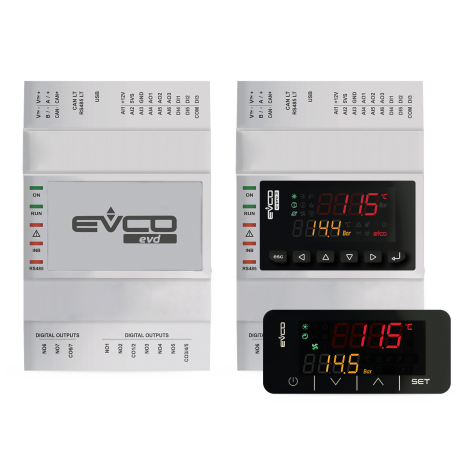 EV3/EVD CHIL
Controllers for single and dual-circuit chillers
EV3/EVD CHIL are controllers for running single-circuit air-water and water-water chillers with up to 2 compressors.
EV3 CHIL is available in the standard 74x32 mm format with built-in user interface consisting of a double custom display, with decimal point and function icons, and four touch keys. It guarantees IP65 protection for easy cleaning.
EVD CHIL is available in standard 4-module DIN format, in a blind version that can be connected to a remote user interface (EV3K01) if required.
The functions of the second circuit can be managed by the controller or by an I/O expansion (EVD EXP).
These controllers are capable of running compressors and fans of both the on-off and modulating types.
EV3 CHIL is available with a 12 VAC power supply, while EVD CHIL can be supplied with a 115... 230 VAC power supply.
EV3 CHIL is designed to be installed on a panel with snap-in brackets, while EVD CHIL is fitted to a DIN rail in a control panel.
Advantages & Main Features








Per maggiori informazioni su questa gamma consulta la versione desktop del sito.