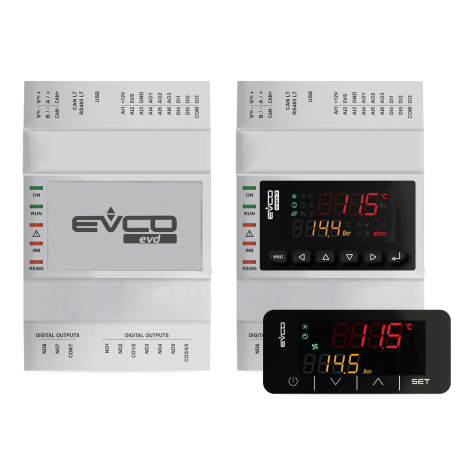 EV CHILL
Controllers for single and dual-circuit chillers with up to 6 compressors
EV CHILL is a series of controllers with ready-to-use application software for running single- or dual-circuit air to water and water to water chillers with up to 6 compressors.
These controllers are capable of running compressors and fans of both the on-off and modulating types and when adjusting the fans it is possible to have up to 4 steps. Hot gas by-pass valve can also be managed and the inputs and outputs number can be increased through an expansion module.
The models equipped with 2 Triac outputs can directly manage fan speed and external solid state relays.
The solution is available in the following hardware formats: - EV3 (74x32mm) with built-in LED display, capacitive touch keys, IP65 front protection, 12 VAC power supply and panel fitting; - EVD (4 DIN modules) in blind version or with built-in LED user interface, 115... 230 VAC power supply and DIN rail installation. Both formats can be connected, according to your needs, to the stylish panel- or wall-mounted interface EVJ LCD or to Vled 3, a reduced-depth interface for panel fitting.
Advantages & Main Features








Per maggiori informazioni su questa gamma consulta la versione desktop del sito.