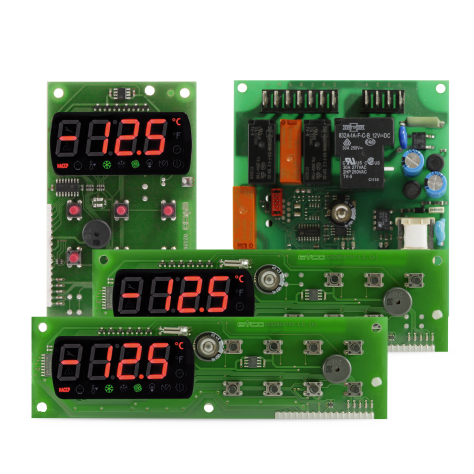 EVX
Controllers for refrigerated cabinets, in compact and split version, capable of being integrated into the unit
EVX is a range of controllers for the management of refrigerated cabinets.
They are available in compact and split version, in horizontal and vertical execution and can be integrated both mechanically and aesthetically in the unit; the user interface consists of a custom display of above average size (with decimal point and function icons) and six keys.
The majority of the controllers has a 30 res. A @ 250 VAC electromechanical relay for the direct control of high power compressors, avoiding the use of contactors and with direct load connection.
Some have the real time clock (to store the HACCP alarms), can operate at low or high relative humidity percentages and have adaptive defrost management; all have energy saving strategies.
Installation is by back-panel, with threaded studs and overlay at the front and guarantees flush mounting.
Advantages & Main Features










Per maggiori informazioni su questa gamma consulta la versione desktop del sito.