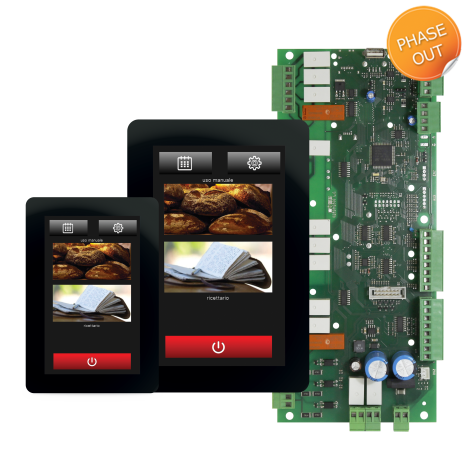 Vcolor 348 M & L
Controller for rotary ovens for bread and pastry-making, with a 5 or 7-inch colour TFT touch-screen graphic display, in split version
Vcolor 348 is a stylish controller for managing rotary ovens for bread and pastry-making.
5-inch or 7-inch capacitive TFT touch-screen graphic display in glass
It can run on/off (one or two speed) or modulating fans and it can control the rack rotation in both automatic and manual mode, with a great many settings available.
It has a complete steam management system (injection and venting), either directly or by way of an external boiler module that can also control water charge and discharge and steam generation. Using an external burner module it is possible to manage gas ovens.
The user interface installed from behind using threaded studs enables it to be placed flush with the panel thus making it fit perfectly with the design of the unit.
Advantages & Main Features







Per maggiori informazioni su questa gamma consulta la versione desktop del sito.