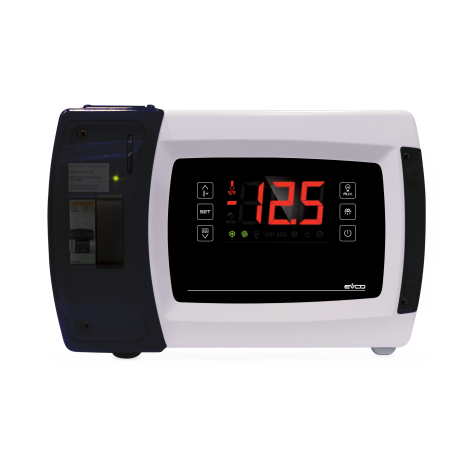 EVBOX1 Wi-Fi
Control panels for single-phase cold rooms
EVBOX1 Wi-Fi is a range of electrical controllers for the management of single-phase cold rooms.
Thanks to the built-in Wi-Fi connectivity, it is possible to interact remotely with the unit through the EPoCA® cloud platform or through MODBUS TCP systems.
The user interface consists of a large custom display with decimal point and function icons, with six buttons. It guarantees IP65 frontal protection.
The controllers use two relays, rated load 30 res. A @ 250 VAC, for direct control of high-power compressors and of the evaporator fan, thus avoiding the use of contactors.
They can be adjusted for low and high relative humidity and feature an adaptive defrost system and energy-saving strategies.
The controllers are designed to be wall-mounted, with fixing screws and plugs.
Advantages & Main Features








Per maggiori informazioni su questa gamma consulta la versione desktop del sito.