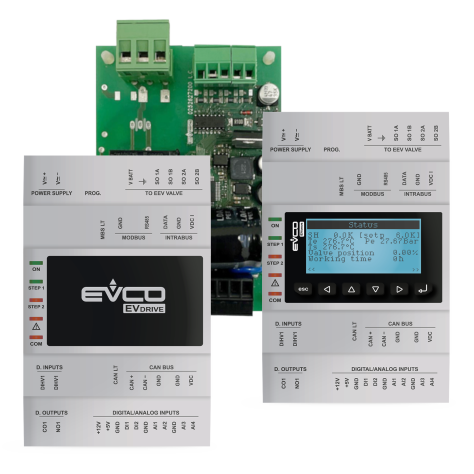 EVDRIVE
Drivers for electronic expansion valves
EVDRIVE is a range of drivers for the management of stepper electronic expansion valves.
Available with integrated user interface or in blind version with the possibility of a remote user interface (EPJgraph).
The user interface consists of a LCD graphic display and six keys.
The drivers can manage both generic electronic expansion valves and the more common stepper valves on the market; they can also be used as a simple analog positioner and can work both on a stand alone basis or managed by a controller, guaranteeing an increase in the efficiency of the refrigerating circuit.
The variety of available communication ports (RS-485 and CAN) and supported communication protocols promotes the integration of the drivers in control solutions.
Installation is on DIN rail, into a control panel.
Advantages & Main Features






Per maggiori informazioni su questa gamma consulta la versione desktop del sito.