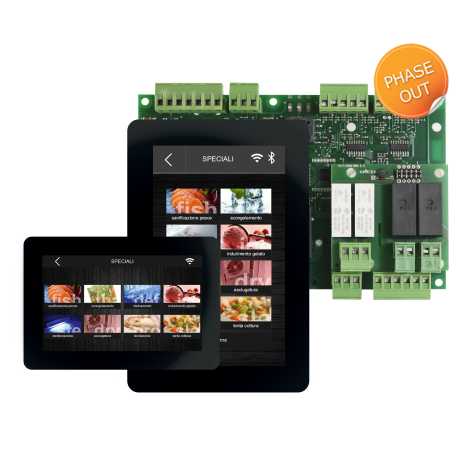 Vcolor 819/829 M & L
Controllers for blast chillers, in split version, with 5 or 7-inch colour TFT touch-screen graphic display, in vertical or horizontal format
The Vcolor 819/829 series is a range of stylish controllers for managing blast chillers.
Available in split version, the user interface consists of a 5-inch (M) or 7-inch (L) capacitive TFT touch-screen graphic display in glass, in either vertical (819) or horizontal (829) format. The display features 65K colours, 800 x 480 pixel resolution and guarantees IP65 protection, for easy cleaning.
These controllers can run blast chilling and blast freezing cycles, both temperature and time controlled, with hard/soft and intensity management functions, the latter requiring an external fan speed regulator. Before each temperature cycle, a test is run to check that the needle probe is correctly inserted (including multipoint probes).
An external multi-functional module makes it possible to transform the controller into a multi-functional device for managing retarding-proofing and slow cooking cycles. It is also possible to team a slow cooking function with subsequent holding or blast chilling and conservation functions.
The user interface installed from behind using threaded studs enables it to be placed flush with the panel thus making it fit perfectly with the design of the unit.
Advantages & Main Features










Per maggiori informazioni su questa gamma consulta la versione desktop del sito.