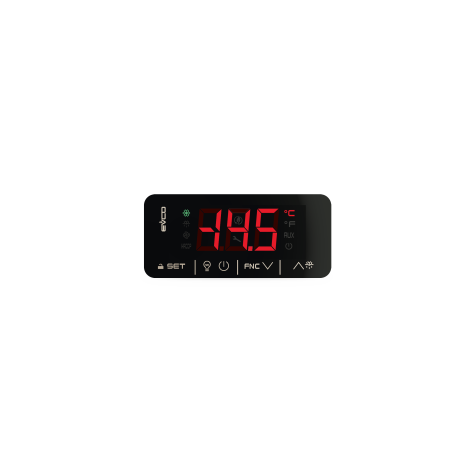 EV3254
Controller for refrigerated units with 5th configurable output for variable speed compressor or external SSR
EV3254 is a controller equipped with 4 relays than can be fully configured and used to manage a wide variety of different refrigerated units. A 5th output which can be set as PWM or 12 Vdc and can feature various functions, makes it possible to manage variable speed compressors (Embraco Fullmotion, Secop and Tecumseh) or, alternatively, to drive an external solid state relays.
The controller ensures high flexibility both with regard to the service functions, given that parameters can be arranged in 3 levels of visibility through a set-up software, and with regard to production thanks to a convenient machine production line test procedure, developed for rapid testing of all the loads managed by the controller.
Users can interact remotely with their equipment using the EPoCA® cloud platform with Wi-Fi or Ethernet connectivity (which also enables alternative or parallel control through MODBUS TCP). Onsite, they can interact from a mobile device with the EVconnect® app which uses Bluetooth Low Energy connectivity. For more details, compare all the connectivity options in the Technical Data table and consult the sections of our website: Products/ Management and Monitoring Systems and Products/ Connectivity Devices.
In the standard 74x32 mm format with 4 capacitive keys and IP65 front protection, the controller has a single-line LED display. It is for panel fitting, using snap-in brackets.
Technical sheet
Advantages & Main Features








Per maggiori informazioni su questa gamma consulta la versione desktop del sito.