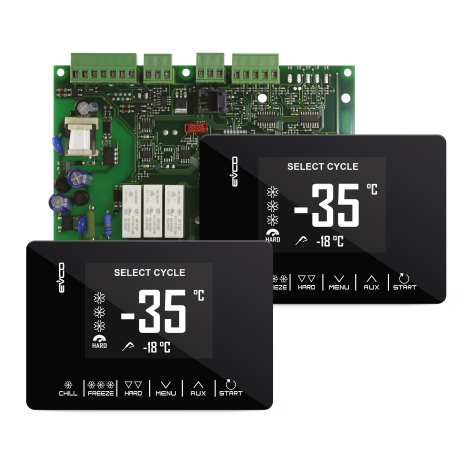 EVJ 800
Controllers for blast chillers
Controllers in the EVJ 800 range are capable of performing blast chilling and blast freezing cycles in an intuitive way, both temperature and time controlled, with hard/soft function. This versatile product provides users with a range of special cycles such as pre-cooling, fish sanitation and ice cream hardening. The outputs are highly configurable thus making it possible to manage the loads needed to run thawing cycles, needle probe heating and cabinet sterilisation.
The Bluetooth BLE connectivity (built-in or conveyed by the external interface EVlink BLE) and the Wi-Fi connectivity (conveyed by the external interface EVlink Wi-Fi) enables the interaction with the unit respectively from mobile devices through the Android and iOS app EVconnect or from the Internet via the cloud platform EPoCA. For more details, please check out the section "Products/Remote management and monitoring systems" in our website.
The user interface has a 2.8 inch colour graphic display, capacitive keys and an IP65 front with a continuous surface. It has been designed for rapid front installation on a plastic or metal panel. For panels in glass or methacrylate, the controller can be installed from behind and all the keys personalised on the panel surface.
Advantages & Main Features







Per maggiori informazioni su questa gamma consulta la versione desktop del sito.